28 Sep 2017

Honoring Playboy's Creator Hugh Hefner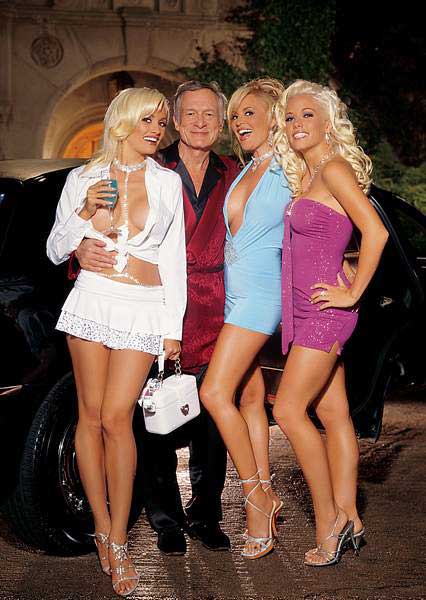 "Mr. Hefner with his hot blonde bomshells"-Photo Courtesy of Playboy Plus
On Wednesday, September 27, 2017, Hugh Hefner passed away at the age of 91. Known for Playboy Magazine and its digital offshoot Playboy Plus, he'll be forever known as the man who not only brought classy porn into our lives but also for introducing us to a whole lifestyle.
Hugh Hefner just wasn't a giant in the field of publishing and a porn innovator but he was also someone who brought more progressive ideas to the forefront of society. He was also a firm defender of First Amendment rights and crafted a lifestyle that many of us envied. A lifestyle that he continued to practice until his very last day on Earth. Mr. Hefner, we'll miss you as we continue to enjoy your intellectual children—which includes Playboy Plus.
His flagship creation—Playboy Magazine—was known to people all over the world. So many people, in fact, that I don't think I have ever met anyone who hadn't read it. Although, I do have to say that many people said they only bought the magazines for the articles—wink, wink!
Hell, I knew women who would buy the magazine. Not to get off with but to look at beautiful women and occasionally compare themselves to them. After all, I don't think anyone dislikes seeing the glistening body of beautiful women. I know that I could literally spend all day every day looking at beautiful women and I'm sure that you feel the same.
Nowadays, everything has moved to the Internet, or so it seems, and Playboy was no different. One of the creations now available for us to enjoy: Playboy Plus. After all, he wouldn't want us to sit around and mourn his death. No, he'd rather us pour ourselves a cocktail and enjoy looking at some beautiful women captured in high-quality videos and pics. And that's exactly what I'm going to do. I've already poured myself a whiskey sour and now I'm spending a little bit of time with 2006 Playmate Sara Jean Underwood.
Of course, even as the legacy of Mr. Hefner is being honored, there are many people who feel like he shouldn't be honored at all. People who claim that he was nothing but a pornographer. Of course, opinions are like assholes, everyone has one, so I guess I'll just leave these people to their own.
I, on the other hand, am going to celebrate the life of Hugh Hefner. I'm going to break out my collection of Playboy Magazines—which is quite extensive—and I'm going to leaf through them one at a time. Which is going to take me awhile since I have about 200 of them in my collection. But don't worry, I don't have all of those magazines for the naked women. No, I just look at the articles ;) !
Posted by David