26 Mar 2008

Indonesia Bans Porn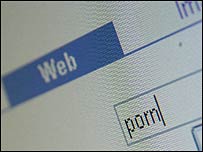 Don't let them catch you doing this in Jakarta!
As recent events in Australia might have taught authorities, blocking what people can and cannot watch online can be almost impossible - people are just so savvy to all technological matters these days, after all.
So as news filters through that the Indonesian government is about to place a ban on viewing internet porn within their shores, you do wonder exactly what moves they can make to stop people viewing adult entertainment from their own homes.
According to an article on the BBC, they plan to use 'special software' to block people from accessing pornography. And I would make a wild guess and suggest that it doesn't have a cat in hell's chance of working.
But what annoys me more about this story, even though I don't obviously live in the country in question, is that pornography once again gets it in the neck as far as being blamed for society's ills are concerned.
It's like porn is the default area to blame for just about everything that is wrong in the world. Civil war raging in Sudan? Blame porn! Someone just stolen your car? Porn's fault! Drop your cup of coffee all over your new sofa? Ban porn!
It really is utterly ridiculous just how much porn gets blamed for. I've watched a LOT of porn and I don't think I'm any the worse a person than I was 10 years ago.
Aside from those 7 disembowelled bodies I have hanging in my garage, that is....
Posted by Steve