05 Dec 2016

Best New Porn Starlet Nominee Lyra Law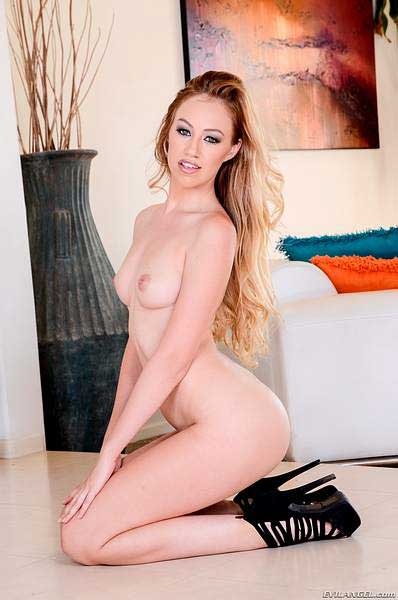 "This Pornstar Is Hot As Fuck" - Photo Courtesy of Evil Angel
Okay, I'm going to go ahead and do it. I'm going to name Lyra Law my favorite porn star of December and hell, maybe 2016. Not only because her birthday is the end of the month, but also because she's super fucking hot. If you don't believe me, check her out on Evil Angel.
Today, I went to Evil Angel just to see her in action. After all, she is a 2017 AVN & XBIZ Best New Starlet Nominee. I wanted to see what made her so fucking special. Then I got to the site and saw what made her special—after I picked up my jaw up off the floor, of course.
Lyra Law looks like she stepped right out of my imagination. She is everything I could want in a woman. She's gorgeous, she's got charm and poise and she can fuck like a banshee. This is the girl who can go from wearing a little black dress at a formal dinner to sucking you off in the backseat of your 1979 Ford Pinto.
I've watched her fuck on numerous porn sites and have watched her videos with bated breath. Some of the movies I've enjoyed watching her perform in include POV Sluts: Swallow Edition, Anal Players #2, and Tight Anal Sluts #2. And trust me, this chick can really perform.
Lyra Law was born on December 30th, 1992 in Los Angeles, California. She stands 5'7" tall and weighs approximately 114 pounds. She has hazel eyes and has an amazing and sensational 34B-26-34 body. And yes, this chick has totally changed my life. She's an amazing pornstar and if you don't check her out, then you are going to regret it.
She's not just into porn either. From what I hear, she is also a writer. Which means that me and her probably have a whole lot in common. So Lyra Law, if you want to get a cup of coffee sometime, just call me!
She's a relative newbie at this time but trust me, this chick is on a meteoric rise to success. In 2017, she is going to take the porn industry by storm. I'm calling it right now. Don't you want to be able to say that you knew her before she became a big success? Well, if you do or if you just want to see a chick in some really hot porn, then head on over to Evil Angel and check her out.
If Lyra Law continues to offer the porn excellence she's been delivering, then I might have to name her the Honest Porn Review's Pornstar of 2017. Of course, that particular award didn't exist until right now but fuck it. I'm going to create it just for her because she fucking deserves it. I dare someone tell me I can't do that.
However, what I would really love to do is get an interview with her for 2017. It can be through email or whatever, but I just want to ask her about her likes and dislikes. That would make for a bad-ass article. Until then, I think I'm going to enjoy her body of work.
Posted by David