04 Jan 2015

How To Properly Pleasure Your Lady's Tits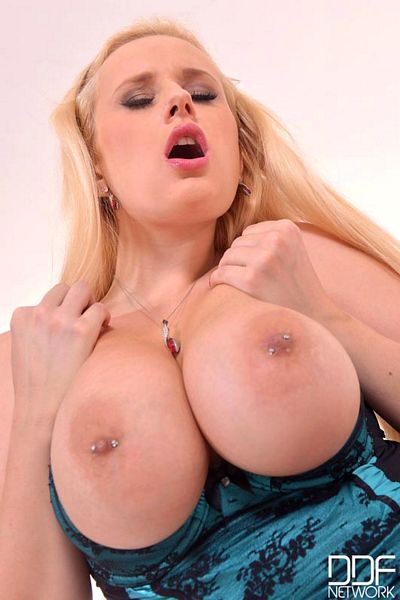 "She needs a boob master"-Photo Courtesy of DDF Busty
If you love big tits like I do—and who doesn't—then this is a blog that you are going to want to read today. That's because we are not only going to be talking about how to satisfy a woman through her breasts, and while we're at it we are going to check out tits on sites such as DDF Busty.
Whenever I have a yearning for huge boobs, which is more often than I would probably like to admit, then I like to head over to DDF Busty. That's because the chicks on this site are not only well endowed up-top, but they are also beautiful and naughty at the same time.
However, I am not here to tell you about where to find the best breasts. No, I am here to tell you how to satisfy the breasts of women you may have sexual encounters with. Why is that important, you ask? Well, it's important because every single woman surveyed in any sort of sex study has the same complaint. That men don't pay enough attention to their knockers in the sack. Sure, guys love to stare at giant sweater puppies all day long, but when it actually comes to playing with them, then they are a little negligent. That changes today, my friends.
Here are some simple steps to make sure that you aren't neglecting your woman's tits. Let's start with the most obvious step. The realization that not all titties are the same. You might think that because your past girlfriend really dug your tit play, that you can use the same approach to your current girlfriend. That is not true at all. Women are all different guys and there is a learning curve with every single one of them.
The next thing you should do is to start slowly until you learn what your woman likes. Don't just jump in their and start groping or kneading your chick's boobs. Start slowly, be gentle and let her reactions determine how you should continue.
Which brings me to my third lesson for the day. Don't be afraid to be a tease. Most guys just jump in and start sucking on the nipples immediately, but forget that the nipples are only a small fraction of a lady's tits. Enjoy the whole breast and sensually work your way to the nipples. Tease her by getting close to the nipples, breathing on them and then moving away from them. This helps build up anticipation.
Once you start getting into a rhythm, then you can ask her questions such as "do you like that?" or "does that turn you on?". Which is our next step. Communicate with the woman to find out what she likes and what she doesn't.
One last thing before I go. Try using different sensations on your woman's nipples. Maybe a furry glove, a piece of satin or even an ice cube (be careful though: some women definitely don't like that). Different materials can provide different pleasurable sensations. And that my friends concludes my advice on how to pleasure Big Naturals. I hope it serves you well.
Posted by David