20 Nov 2007

Porn In Wrestling 2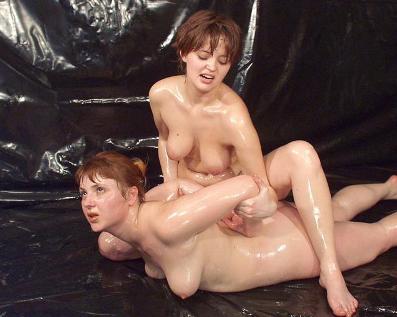 Don't expect to see this on WWE Raw any time soon.
Yesterday I was discussing the surprisingly large amount of crossing over between porn and wrestling, particularly so over the last 10 or 15 years or so. Today we continue on the same theme and get even sleazier.
Jasmine St Claire has been associated with wrestling for several years now. She appeared for the ECW and XPW promotions at the start of the decade, both known for their more adult output. As it turns out, XPW, which was run by porn producer Rob Black, led to her next career path.
Along with wrestler The Blue Meanie, who she rather improbably started a relationship with, she bankrolled the awful 3PW promotion, essentially a rip-off of the aforementioned promotion. It never really took off despite a cable TV deal and she ended her association in 2005. She now seems to have ended her association with wrestling.
Tylene Buck's career went in the opposite direction though. After lots of fitness modelling, she was signed to a contract with the WCW promotion as a valet and interviewer before wrestling several matches before the company was bought by WWE.
She too ended up in XPW for a short stint before starting a career in lesbian porn. In that stint, she feuded with Lizzy Borden, another porn star who was married to Rob Black. The connections are fascinating and deep running.
The connections are not quite as apparent in mainstream wrestling companies such as WWE and TNA but they are there too. Several WWE 'divas' have featured in nude Playboy pictorials, notably Candice Michelle, Ashley Massaro and Torrie Wilson.
It's all good family entertainment, isn't it?
Posted by Steve