07 Nov 2007

Porn On A Plane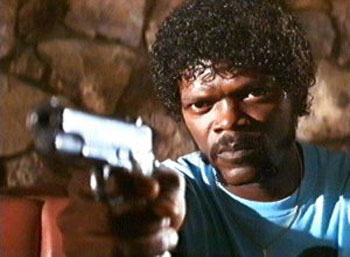 "...and I will strike down on thee with great vengeance and furious anger, those who attempt to read motherfuckin' porn on this motherfuckin' plane!"
On what is an extremely slow day for porn news (it does happen sometimes), I did find one gem of porn-related news in this letter from wherever the hell Bloomington-Normal happens to be over there in the States.
Actually, I don't know what's funnier - the actual letter itself or the assortment of replies, both serious and mocking, that this deluded old cow has recieved to her nonsensical and completely hysterical letter.
I really don't know what she is making a fuus about. Everyone knows that Playboy has practically no porn or nudity in it these days anyway. It's most interviews with rappers, letters pages and adverts. It ain't what it used to be.
In fact, it looks positively tame compared to the likes of FHM and Maxim. Mind you, having seen the American versions of these magazines, they are incredibly tame compared to what you get in the UK counterparts. I wonder what she would have made of those?
This woman should be lucky though. At least this dude didn't pull out his laptop and start watching Backdoor Sluts 9. Gee, I wonder how upset she would have gotten if he'd have done that? She might have gone ahead and written two emails!
It does show you though that as much as you and I may love porn and as much as our enjoyment of it is constantly under threat by campaigners and legislature from people who want to put an end to it, if the opposition are anything like this woman then we really have nothing to worry about.
Posted by Steve