19 Jan 2012

Aloha To Roni's Paradise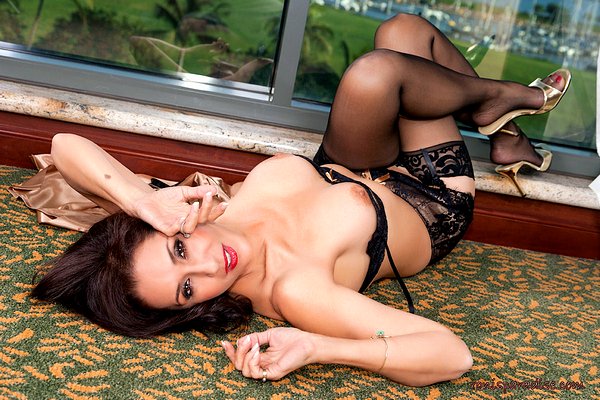 "She's Back and Sexy As Ever" - Photo Courtesy of Roni's Paradise
We all know that porn sites come and go. That is no big surprise. But sometimes a porn site can have such an enduring effect that members won't let it end. And a perfect example of this situation recently happened with Roni's Paradise.
You see, the owner of this site, as well as the main model, was getting ready to turn 60 and decided that maybe it was time to hang up her fishnet stockings. So she announced that the site was going to close and then she shut the doors. For a minute. There was such an outcry among her fans, and former members of this site, that she had to reconsider her position.
In fact, she reopened Roni's Paradise with the knowledge that she had indeed made a mark on her fans. Can you imagine how good that must have felt for her? That she was so loved, and so wanted that fans were unwilling to let her go into that good night.
And after recently taking a look at this site I can see why. There is an appeal to her that can't be calculated or placed into words. There is indeed a magic about this beautiful Milf from Hawaii. If I was religious I would say that she almost had a spiritual connection with her fan-base and her members.
I have seen a lot of porn sites over the course of my lifetime. And I do mean a whole lot of them. But I have never found a site that managed to maintain such a one on one connection with its members like Roni's Paradise can. Roni brings a truly personal experience to her members and they absolutely love her for it.
Not too bad for a site that originally began as an experiment. Her husband sent in some pictures of her nude and they received some positive reviews, so she went on to launch this site. Little did she know was that she was not only building an amateur milf porn site with the occasional fetish slant, but she was building a cult following. I guess that what happens when you care about what you do, and this amateur milf most certainly does. It shows in all of her content and all over her site.
If you have let to experience Roni's Paradise, then I urge you to visit this beautiful lady and see what she has to offer. She has built something that is not only sexually erotic but also is capable of reaching down into your very soul. Definitely something to check out. That is, if you love hot milfs who are beautiful and sexy as hell.
Thankfully, Aloha means both hello and goodbye. Everyone was saying Aloha to Roni because she was closing her doors. Now we can say Aloha to Roni because she has once again returned. Aloha Roni and here's to many more years with ya.
Posted by David