29 Nov 2008

Roxy Jezel - Club Jenna Success Story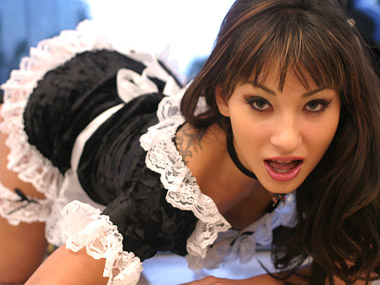 "Oi, Roxy, you didn't turn my bed down!"
I'd like to think that I'm fairly clued up on British pornstars, but occasionally one slips through my net of 'knowledge'. However, how Roxy Jezel managed to slip through said net for quite as long as she did isn't all my fault, surely?
After all, she's actually done very little actual content in her home country, so it's probably best terming Roxy Jezel as a pornstar who happens to be from Britain rather than being a British pornstar. If you know what I mean.
But what she certainly is is a pornstar who has attracted a fair amount of interest, one way or another. I must admit that I never saw any of Jenna's American Sex Star (it was shown on a station you have to pay for over here) but I am slightly confused.
Bearing in mind that Roxy Jezel won a contest that was, judging by its title, an attempt to find a new big name American pornstar. Which, of course, she isn't. But judging by the amount of movies where she's speaking in an American accent, I think I get it.
Maybe the pretense was that she was actually American? I don't know. Whatever the answer is, as much as a success story as she turned out to be as Club Jenna's very first non-Caucasian contract girl, she didn't stick around in the position for very long.
Then again, for a pornstar, Roxy Jezel tends to be rather more intellectual than your normal adult star, and I do think that such a gift can be a real bonus when you're in this industry. That way you can find your way through it without stumbling into some mistakes.
Posted by Steve