14 Dec 2016

Anything Better Than A Lesbian Threesome?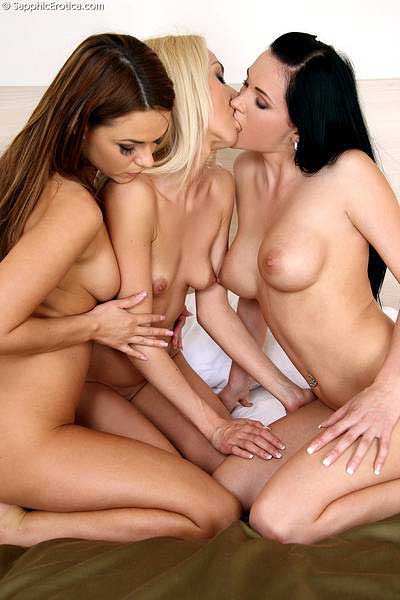 "Triple The Pussy...Three Times The Fun" - Photo Courtesy of Sapphic Erotica
Do you know what makes my dick harder than watching two lovely lesbian babes slurping each others snatches and fucking each other all night long? It's watching three or more hot lesbos doing the same thing. The kind of action I like watching on Sapphic Erotica on a regular basis.
Yes, I'm talking about steamy lesbian threesomes, also known as girl on girl orgies and pussy parties. And why wouldn't I be? After all, if one pussy is good and two is great, then three of them must be fucking awesome. Especially the way that Sapphic Erotica films it. There probably isn't a straight red-blooded male who doesn't think so. Unless he has some sort of hangup about girls fucking and in that case, fuck him.
In the past, I've always loved watching women have sex. There's something so hot about watching them slide their fingers into one another or lick each others clits until they explode. It's an experience that I have cherished from the moment I discovered porn.
Watching three or more girls fuck is even more amazing. That's three pussies, three asses and six tits all trying to please each other. It's something that everyone should check out. I love watching them take turns eating each other out or finger blasting one another. However, what I really like the most is when they line up end to end like a human centipede (except this one isn't fucking gross). That's enough to make you cum without even touching your dick.
I really like it when all of the girls are different from each other, too. Now, don't get me wrong. I love watching an all blonde girl gangbang as much as the next guy, but sometimes you want a little variety—at least, I do. That's when I turn to scenes in which all of the girls are different. Like the pic attached to this article. You have a brown hair girl, a babe with black hair and a blonde. And they all have different body types. That is what I'm talking about.
If you haven't yet had the opportunity to check out the gorgeously filmed lesbian threesome videos on Sapphic Erotica, then you should really check it out. They have hundreds upon hundreds of sexy ladies waiting to fuck for you. If you're a fan of hot lesbo girls and don't get off on this site, then I don't know what to say. Maybe your dick is fucking broken.
Okay, folks. That doesn't it for me today. I have a date with three hot women who are going to fuck all afternoon for me. If you don't hear from me, then I probably collapsed in front of my computer and jacked myself off until I was dehydrated. Otherwise, I'll be back in a jiffy with some brand new stories and some brand new porn sites to share with you.
Posted by David