24 Nov 2007

Soapy Massage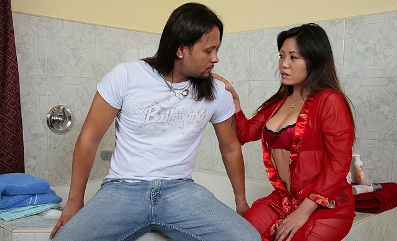 "...this isn't part of the massage, by the way."
In my review of Soapy Massage, I make a reference to a scene from a film called Two Days In the Valley, saying that a particular scene from that film came to mind whenever I looked at any of the content here.
Said scene sees an undercover cop, played by Eric Stoltz, going undercover into an Oriental massage parlour to see if they are offering more than just massages. A handjob later from a hot girl suggests they certainly are!
By the way, there was no soap in that scene.
But it did make me wonder. If a mainstream Hollywood moview was savvy enough to be able to include the old 'massage becomes sex session' fantasy in one of their films, how on earth has the porn industry negected it so much?
It's such an obvious one, but just how frequently can you honestly say you've seen this in a porn film or on a porn site? Not very often, I'd wager. Then again, the porn industry can be very short-sighted when it comes to fantasy fulfillment.
It's by no means the only fantasy scenario that they seem to have forgotten to include in most of their sites, so it's not even that much of a surprise. Then again, some fantasies are so completely overused that you wonder what the hell is going on out there.
Mmm, I could do with a bath, I think.
Posted by Steve