23 Nov 2007

Squirt Bukkake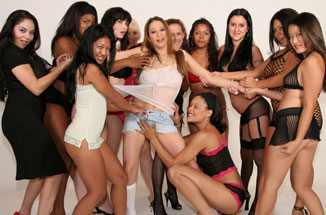 Looks like that scene from Day Of The Dead - except sexier, obviously.
As the old saying goes, "Revenge is a dish best served cold." Do note though that at no point does it say that revenge is a dish best served by having dozens of angry lesbians ejaculating all over your face and body.
After years of drenching everybody within a 50 foot radius with her extraordinary feats of female ejaculation, that's exactly the revenge that was served up to Cytherea in by far the best scenes on the overall very good Squirt Bukkake.
Quite what the local community made of dozens of women waving placards and chanting, "We're here and we're queer, get used to it!" is difficult to know. I know I personally would have been quite angry with them.
Unless they came and hopped into bed with me and my wife. Obviously.
It really is one of the most surreal scenes that I've seen in all my time as a porn reviewer, and I've seen some REALLY weird shit. A giant penis monster. A guy dressed in a gorilla suit who goes round giving girls fake cumshots. A giant cumshot volcano being fucked by a female pornstar.
But just for sheer lunacy, this scene gets pretty close to topping it, I must say. Quite why these lesbians are so angry at Cytherea is never actually fully explained so you are left wondering what on earth is going on.
After the first four or five cumshots though, you really don't care. You just want to enjoy it. And you will.
Posted by Steve