01 Nov 2008

Tiny Tobi - Missed Opportunity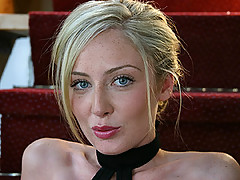 About the only picture I could find where she doesn't have a cock in her mouth.
Whilst, in a perfect world, here at Honest Porn Reviews we would love to have all websites turn up for review with loads of content, regular updates, razor-sharp presentation and great stuff to look at and watch. However, this isn't a perfect world
Having said that, it might be a considerably more boring job if every site was as good as, say, Pix & Video and you didn't get the chance to see the likes of Tiny Tobi. There is nothing wrong with Tiny Tobi, after all, as a performer.
Nor is there anything wrong with the content on the site. In fact, it's outstanding. As an extreme hardcore 'super-slut', she is as good as any out there. Indeed, her standing is confirmed by her surprisingly prevalent presence when you do a search for her.
That's the problem though. If she wasn't so good then you wouldn't really care one way or another if Tiny Tobi got regular updates or anything, and it wouldn't matter. But she IS good and therein lies the major problem.
It's been around since the beginning of 2007, barely struggles into double figures in terms of its sets of content, and virtually never updates. I think the key here is that when you get a performer then why not shoot loads of content and have a backlog to use?
I've seen official sites of performers that still update but the performer doesn't even perform any more. Case in point, Linseys World. She retired from glamour and performing a couple of years ago and got a breast reduction. That site still updates though.
Ultimately, networks aren't going to tell you (very often, anyway) that Tiny Tobi is no longer updating for one reason or another, but that doesn't really help you. It just leaves you rather frustrated and annoyed by it all. Shame, because she is damn good.
Posted by Steve