26 Sep 2018

Why Petite Girls Like Vina Sky Are The Best Bangs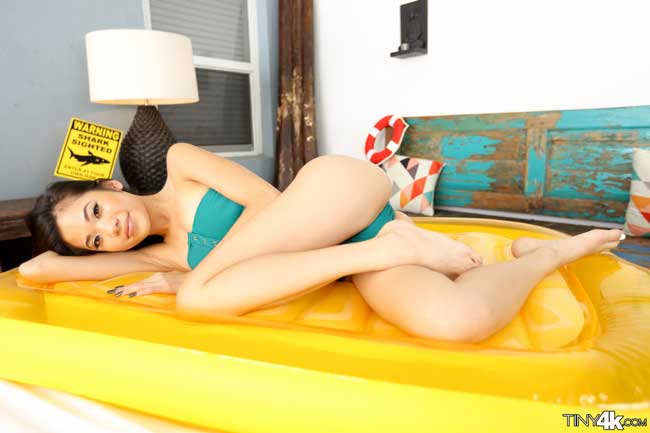 Picture Courtesy of Tiny4K

Small girls are my favorite go-to for hardcore sex. Find out why petite Asian spinners like Vina Sky are the best in bed.
I just got done watching the most recent scene uploaded to Tiny4K starring Vina Sky – it's an amazing 33-minute pound fest where this 5 foot Asian gets given the biggest dick she's ever had the pleasure of enjoying. I'm here today to tell you that when it comes to picking a woman to have sex with, nothing will be a petite babe like Vina Sky. When you're done reading this, you're going to agree with me too – you'll never want to fuck a girl taller than 5' 2" again.

So first, let me begin by pointing out that girls are supposed to be there to fuck, and if you've got the capability of picking them up, you better damn well do it. Nothing makes a chick hornier than being suspended mid-air – it makes them feel tiny and best of all, it helps them realize just how strong you are. Believe me: girls want to cling to you while you pound them and support their body weight at the same time. Try it next time you have the chance to bang a small girl and I guarantee you're going to love it.

What places like Tiny4K excel at is showing that if you've got a small, delicious babe to pound, your cock is going to look a lot bigger inside of her. This gives you confidence, and that means you fuck better. You'll also have much more luck hitting those sweet spots if she's a smaller package: everyone wins, especially guys that are just about average downstairs. Petite spinners also come with other hidden advantages, such as being able to reach into small spaces to get something you've dropped and giving you plenty more room on a plane when you're going on holiday together. Vina Sky's video on Tiny 4K was a beautiful example of why every guy should go travel the world with a pint-sized girl at least once in their life – she's care-free and a stellar bang to boot.

The only problem with petite cuties like Vina Sky is that they might struggle to take it up the butt, but they'll try nonetheless to accept your cock inside their tight assholes. It is a personality thing with small girls that really rocks: they're there to please and will forever act like youthful, fun-loving teens. If you check out the scene I'm talking about, you'll see exactly what I mean. Vina constantly laughs, smiles, turns around and giggles as she's given the pounding of a lifetime. Her male co-star also picks up that tiny package and fucks her missionary in the air – you'll be able to tell immediately from her reaction just how horny that makes her.

If you take anything away from this post, make sure it is the recommendation that you pound the hell out of a small Asian girl at least once in your life, and make sure she knows just how tiny she is. Eastern girls love to squirt too – no doubt she'll let that juice flow if you hit her spots just right.
Posted by Will