04 Jan 2017

VR Porn Will Explode in 2017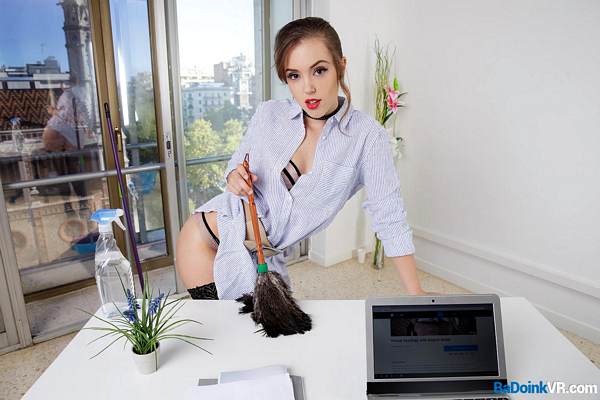 "VR Porn is Going To Clean Up This Year" - Photo Courtesy of Badoink VR
The start of a new year is an amazing thing. It seems like just about anything and everything is fucking possible. It is also a time when a lot of people make a lot of predictions. For instance, I am going to predict that VR porn sites like Badoink VR are going to become even more popular. Wanna know why? Well, then read on.
Before I tell you why I think VR porn is going to be so hot in 2017, I first want to make sure that you have visited sites like Badoink VR . If you haven't, then I have to say that you are missing out. Watching stereoscopic 3D videos in 4K resolution and a 360 degree range of motion is fucking amazing. Especially when those videos feature hot babes who love to fuck and suck cock.
Okay, now that I've told you how hard virtual reality porn makes me, let me tell you why I think this genre is going to explode in 2017. The first reason I have is the number of sites in this genre has almost quadrupled from 2015 to 2016. Before 2015, there were a scattering of sites around—maybe one or two that I know of. However, after 2015 and into 2016, there are a number of sites available. Here at Honest Porn Reviews, there are currently 7 sites in the virtual reality review section. And I predict more are coming.
Another reason I think this genre is going to explode because it has been reported that searches on google for virtual reality porn over the Christmas holiday has increased by over 50%. This is likely due to the fact that a lot of people received VR goggles for Christmas. After all, the Oculus Rift, Playstation VR and Samsung Gear VR were popular gifts this past season. I know if I got one of these gifts for Christmas the first thing I'd do is search for tits, ass and pussy to watch on it. Wouldn't you?
The third reason for an increase in virtual reality porn is because there are more and more goggles on the market and they are getting cheaper all the time. There are going to be dozens of new goggles debuted at CES 2017 and head set prices have really come down—you can now find goggles for under $15 and some porn sites are even giving them away for free. This wide availability and cheap pricing is going to drive the market, trust me.
The last reason that VR porn is going to explode all over everyone's faces in 2017 is because it is super hot. It is probably the closest thing to being with an actual woman. It really makes you feel like you are fucking a woman and not just beating off to some porn. Because of this, more and more people are going to make their way to sites like Badoink VR, Wanks VR or Czech VR. Mark my words: Virtual reality fucking is going to be big in 2017 and it's going to be in your face!
Posted by David