10 Dec 2017

Reality Porn Memberships For Xmas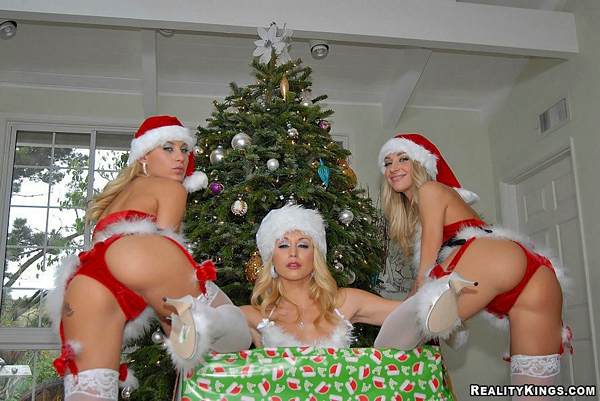 "Ho Ho Ho! A Stocking of Lesbian Sluts!" - Photo Courtesy of Reality Kings
What do you normally get for Christmas? I can tell you what I get. It usually along the lines of socks or sweaters or ties. Once in a while, someone will give me a movie or album that I wanted but that's few and far between. Do you know what I usually want? A porn membership to Reality Kings.
Yes, you fucking heard me right. I wish that people would just buy me a porn membership for the holidays. After all, that's where I'm going to be doing on this day—ogling hot pieces of ass, pussy, and tits. And Reality Kings is the perfect place to hang out at.
Sure, there are a number of other great porn sites out there but I feel like this one is really good for the entire holiday season. Why is that, you ask? Well, that's because it's a network that covers a whole lot of different genres. You can see just about anything you want to see.
I can visit one of my favorite sites of all time, Milf Hunter, or check out Moms Bangs Teens. I can head down to In the VIP or I can hang out with 8th Street Latinas. And if I'm feeling especially horny, I can visit sites such as Street Blowjobs, Dangerous Dongs, and Cum Girls. Just about anything and everything all warehoused in one big fucking site. Yeah, that's how I roll for the holidays, bitches!
It isn't the great variety of niches that is the only thing that keeps me coming back to this site. It's also the quality of the pornstars. This site is a virtual who's who of adult performers. Chicks like Valentina Nappi, Brianna Love, Sophie Dee, Jenny Hendrix, Ashley Robbins, Dakota Skye, Sasha Grey (before she retired) and Madison Scott. And that's only a tiny selection of the pornstars available. There are a whole lot more in this network—more than I could probably eye fuck in my entire life.
Okay, let's see where we're at. We've decided that this network has 44+ awesome sites, over ten thousand different porn stars, over ten thousand videos and five hundred thousand pics and unlimited streaming. Do you even need any more reasons for why this is a great gift for Christmas? I don't think so.
If you don't plan on buying a membership site to your favorite porn fanatic, then you might want to consider getting yourself a membership. Yep, you're going to spend who knows how much of friends, family, lovers and everybody else. So why not give yourself a little bit of fun as well? I've noticed that a good network of porn will ease your holiday blues faster than just about anything else. It's almost miraculous.
So do yourself a favor and head on over to Reality Kings. You'll find an almost endless supply of porn and you'll get it for a reduced price. Help yourself get over the holiday hump with a little bit of holiday hand humping. If you don't, then you'll be humbugging your nuts all over the place and you won't be much fun for anyone to be around.
Posted by David